too great or extreme to be expressed or described in words.

"the ineffable natural beauty of the Everglades"

synonyms: inexpressible, indescribable, beyond words, beyond description, beggaring description; not to be uttered.
Question: You know what it's like to read a book, even an amazing book like Good Omens: The Nice and Accurate Prophecies of Agnes Nutter, Witch, when you're the walking dead due to lack of sleep?
Answer: You don't get much reading accomplished, that's what.
Looking forward to this coming-out-of-my-hiatus, June 1 blog post and also the May 31 premier streaming of the series on Amazon Prime, I set my sights on reading this Neil Gaiman and Terry Pratchett book beginning last Sunday. I gave myself most of a week to read this one book in anticipation of the premier. The idea was to read the book, then watch the show and then compare the two mediums for my viewers.
Unfortunately, I've been reading all week long and I'm only halfway through. Well, I'm a little more than halfway through. At the time of this writing, I've read through Page 226 out of 368 pages on my Nook. It's not for lack of trying, though. I just kept dozing off this week, including today. I'd wake up to find that I read through several pages, but I didn't have a clue as to what was on those pages (words, presumably); so then I had to backtrack and re-read. How exasperating.
I can't tell you how many times this past week that I've physically dropped my Nook while in the middle of a sentence, eyes glazed over, my lids half covering my eyeballs in my stupor with drool dribbling down the side of my face. I looked positively possessed according to David. What would I have looked like negatively possessed?
I panicked by Page 203 around noon today and made a last ditch effort to read like the wind; otherwise, I wasn't going to finish in time. I was going to read straight through to finish the damned thing whether I absorbed any of it or not because I had company coming at 7:00 PM to watch the premier on TV with me. By Page 226, I gave up. I mean, other things had to get done, and they weren't going to get done on their own!
But for God's sake, it's not like I was reading a textbook full of dry material; it's a distinctly British and humorous take on the fucking Apocalypse. How much more entertainment could one ask for from a book?
It's also a good friend's favorite book and she highly recommended it. If I weren't so damned tired all the damned time, I know I'd genuinely appreciate it as well. It's light and entertaining and incredibly witty — none of that is lost on me — it's just that the chuckles in my mind are sleep-deprived and so they can't fully manifest. They're faded echoes of chuckles that never quite materialized. How does that even happen? I don't think they're even echoes because to be echoes, they would have to have something to actually echo. So maybe they're meta-chuckles; the thought of chuckles thinking about becoming actual chuckles but not quite able to get there. I think. LOL.
I do have "Bohemian Rhapsody, " "Under Pressure" and other Queen songs stuck in my head vying for attention, though. (When you read the book or watch the series, you'll understand. 🙂)
At this late date, I failed this task. Pure and simple utter failure. I wasn't able to finish reading the book within the deadline so I could compare it to the Amazon Prime broadcast for my coming-out-of-hiatus blog post. Dammit to hell!
Even so, I was terribly excited about seeing it on TV! I wasn't initially clear whether this was going to be a one-off movie or a series with a bunch of episodes to get through; but now I know this series/season has six episodes. Just think of it: Frances McDormand as God and Benedict Cumberbatch as Satan! And then there's Michael Sheen (good angel) and David Tennant (bad demon)! How irresistible!
My company and I binge-watched as much as she could get through before it got too late. She had to leave by 10 PM and made me promise not to watch any more episodes without her. She's going to try and make it back tomorrow. I told her if she's not back by 2 PM, all bets are off. So, as I write this, I haven't actually watched episodes past where I've gotten in the book.
Three. I've watched three episodes.
Unfortunately, I'm still dragging my butt at 3:18 AM as I write this post. I doubt I'll be any perkier in the morning than I've been at my awful best today or the day before that; I'm half-dead with sheer exhaustion, as I have been for most of this week. Even so, I think I've made it perfectly clear that I can function (maybe not very well, but function, nonetheless) on little or no sleep. However, I'm concerned that this state will not lend itself to my remembering very much of what I've watched so far; which is probably how I'll end up comparing it with the book that I'm also having a difficult time remembering.
So to hell with it. I set out to write about Good Omens for this blog post and, trust me, I ain't got nothing else set aside for a Plan B. So here's my take: I don't remember what happened in the book and I don't remember what I saw on the screen; except that it was all good for an end-of-days' tale. I still don't know the ending as I write this though. Anyway, that's my first impression of both the series and the book. So…yeah, the screen version was as good as the book in my humble opinion. Call it…ineffable. Or ineffability. Whatever you choose. Hopefully, though, none of us will remember this post by Sunday.
You should read the book and watch the series. Seriously good stuff even if I'm too tired to remember it very well.
I think I'll go to bed now. Sleep beckons. The Apocalypse is gonna have to wait until I can get around to it; preferably when I'm fully awake.
TTFN,
Mona
PS ~ It's good to be back!
PPS ~ RIP Grumpy Cat!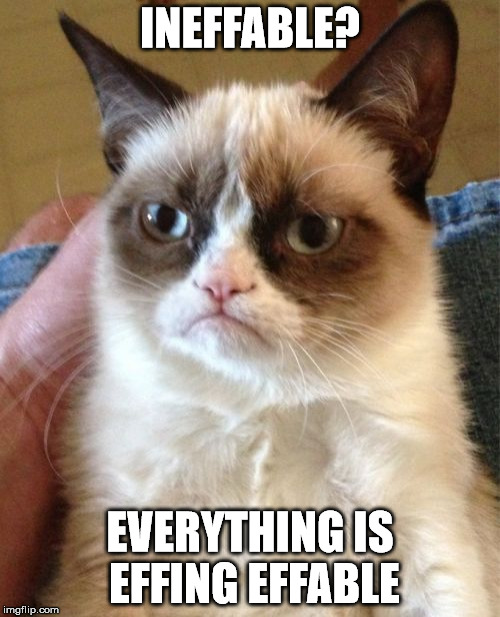 PPPS ~ Here's a little music for Armageddon because, you know, it wouldn't be one of my blog posts without a little music. Enjoy.