Will one of you happy, perky, excited-about-the-New-Year/New-Decade people out there please wake me up when spring gets here? I know about a few of you (because I've been catching up on blogs and if I haven't gotten to you yet, I will by the end of this week, unless I start feeling really bad again, and then it might take a little bit longer but I will get to you, promise), but am I the only one out there who feels like I still have a hangover from Christmas? No, I didn't say New Year's Eve, I said Christmas; back when it was close to 80 degrees at our house on Christmas Day.
I wore shorts and a tank top on Christmas because it was hot as hell but I didn't feel very Christmasy, so I also wore a Christmas jingle bell around my neck that screamed holiday spirit…and also so they could find me in case I wandered off. But then the glue that held the bell to the string melted in the heat or something and literally fell off while it was around my neck. So I lost my jingle. I should have used my other bell.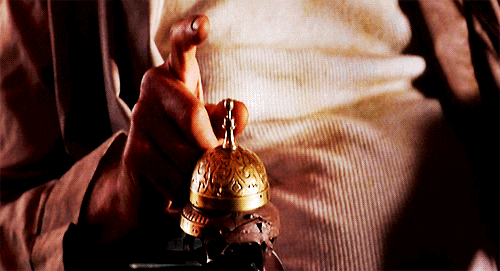 No, not that one!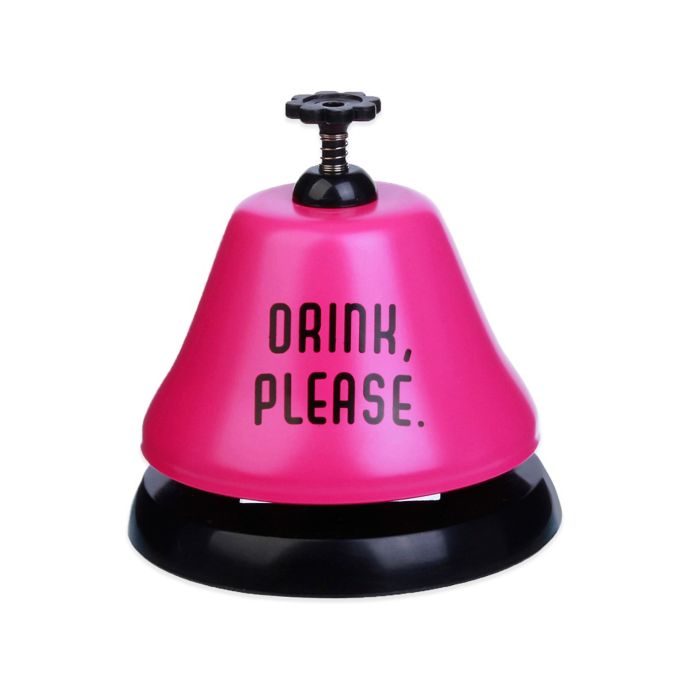 This one!
So it was hell's bells to the bell-wearing plan; but even so, I refrained from saying "Bah, Humbug!" 
I suspect that the crazy weather of hot one day and freezing our asses off the next and then hot again the next, plus the anxiety-producing stresses before Christmas celebration, not to mention Christmas shopping in the days leading up to the big day and god-only-knows what germs I encountered out there in the madness of it all (it really wasn't that crazy this year [yes it was]) and the extreme joys of the Christmas celebration, itself, because it really was a joyful one, is what landed me in a vat full of phlegmy sinus infection two days after Christmas.
(River, that's Christmas overmorrow, isn't it?)
I know it's not the flu; otherwise my back would feel like it's breaking. I've ruled out the common cold, too, because I'm not running a fever, which is good because, frankly, I'm too exhausted to be running anything. Also, I've got color to my…ahem, phlegm.
No, I didn't go to the doctor. I'm still trying to pay off Christmas, okay? It's a new year with a new deductible, which means, I have to pay full price at the doctor's office to learn what I already know; I have a sinus infection. Also, I thought I'd be over this sonofabitch by now.
In spite of the Advil alternating with Tylenol, the saline nose spray, the cough drops, the Mucinex and it seems like one or two other over-the-counter remedies along with drinking copious amounts of water — a week later, I was worse than ever. I have, however, finally delved into the deep recesses of my medicine cabinet and come up with older-ish antibiotics which seem to be helping. There are seven days' worth spread between four different bottles and I aim to take every last one of them.
The real problem is that I start feeling better one day and then I feel worse the day after. I'm probably trying to do too much on the days I feel better which is laying me out flat the following days. I can live with the phlegm, it's the sheer exhaustion that's got me down. Even so, a friend was kind enough to let me know that it's almost been a month since I'd last put out a post.
Where has all the time gone?
I'll tell you where. It's gone by watching all five seasons of Breaking Bad, plus three seasons of Better Call Saul, plus El Camino — DAVID! That's where the time's gone!
My husband has a new addiction, y'all, and it's not good — but that's for another post! Anyway, I told my friend that I'd try and get a post out this week. Her words were, "Okay, you have to write something before Thursday, because if you don't, that will make it a full month since your last post." So today, I feel better-ish and I don't think it's even Thursday yet. Or maybe it is. I just don't know anymore. Anyway…Woo Hoo! Post is out!
As usual, I'm running behind on everything! Some things just don't seem to change from one year to the next. Now I'm going to crawl back in bed!
Anyway, that's some of what I did over Christmas break and now I've written at least a 500-word essay to that effect.
HAPPY 2020, EVERYONE! AND STAY PHLEGM FREE! (That's going to be my motto this year, I've decided!)
TTFN,
Mona
MUSIC?
Why yes. How about something I put on the CD mix for the women I buy for at Christmas. I have to say that this year's CD that Ryan and I put out was AWESOME! How about a little badass Sheryl Crow, y'all? Also, this is the epitome of  how I'm going to work the year 2020! Ya know, once I get over this sinus infection. In the spring, maybe?
Nighty, night!