Did you know that prison inmates can still be executed in the US by electric chair? I was shocked! (See what I just did there?)
David, Ryan and I were talking about this at lunch today because an inmate in Tennessee was recently executed that way; and from what I understand, this guy had the option of dying by electric chair or by lethal injection. David was surprised that the inmate had a choice in the matter. Come to think of it, I was too.
David said, "If he got to pick, why the electric chair? That's stupid! Who would choose that?"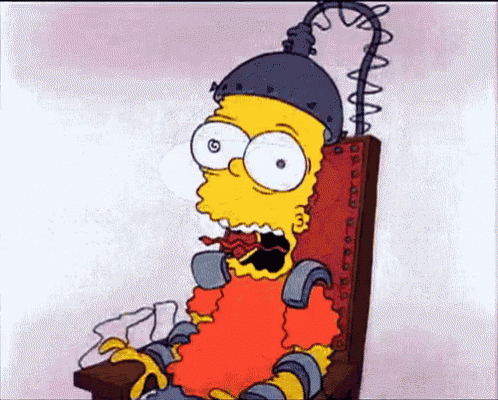 "Beats the hell outta me!" I said, "But, uhm, it's a little late to ask him that question now, don't you think?" Even so, I got my little book of questions out, the ones that I'll be asking once I get to the other side, and added that to the list.
Our discussion prompted Ryan to ask a question about the guillotine. "Does that mean they chop off your head?" he asked wincing as if in pain. Just thinking about this was giving him the willies! (Oh, the things we are dying to know but are also kind of afraid to ask — until the right moment presents itself, that is. Ha!)
I told Ryan that the French invented their efficient beheading machine, probably during their revolution, which was a long time ago. BTW, I don't know that to be true. It seems true. It might be true. I'm not actually going to research this, but if someone out there knows the answer for sure, feel free to enlighten me. I enjoy getting enlightened whenever possible.
What I do know is that the guillotine, apparently, was/is a fairly quick and effective way to end someone — if, say for instance, I were getting my information from watching the film version of A Tale of Two Cities — which I am. Not sure if the French still use this  method of execution anymore. Or if they execute anymore. (I probably should know this.)
By the way, since we're on the topic, does anyone know whether Marie Antoinette really had a dotted line drawn on the back of her neck with the words, "Cut here," written under the line or is that just a myth? (Why do I even think I know that?) Also, I wonder how you write that in French because it wouldn't make sense for M.A. to have that written in English, now would it?
But if she did write it in English, do you think the executioner would have stopped and said, "Wait a minute, here! What's this? 'Cut here?' Isn't that English? What does that mean? Somebody explain what is written here before we begin," thus buying poor Marie a few extra minutes until they got the translation all sorted out. And do you think later on while the executioner was eating his dinner, he was thinking and quietly chuckling to himself, "Oh, that Marie! Sorry she had to go! She was funny, that one! Cut here. Written in English! Heeeheeehee! Wait until I tell the guys at the tavern. They'll get a helluva kick out of this story!"
Hold on, let me use Google Translate. Okay…and we have the words…
"Couper ici."
So these are the words, presumably, that would have been written on Marie's neck, provided that's what really happened and she didn't get cute by writing it in English. According to Google Translate. Because I knew you were as curious as I was. But you know what they say about curiosity don't you? So hide your kitties, oh curious ones! 
You're welcome.
And of course, because this is my family and we talk about such things (but then, again, what family doesn't?), we also started discussing other methods of execution and which way we would want to go if we had a choice. And yeah, I know that all of this is highly unlikely, but it's just a hypothetical and talking about it isn't going to hurt anyone, so come on and play along:
If you knew you were going to be executed — justly or unjustly — and you were given options — how would you want to go?
I mean who hasn't thought about what they'd want for their last meal at least, right?
So this just takes that discussion one step further. It's not that morbid. Well, I suppose it is for some of you; but it's not like, just because we're discussing this, it means you're inviting "Death" to your doorstep. I mean, you've probably read or heard about someone dying a gruesome death at some point and thought, "Oh, man, that's a horrible way to go! When I die, I'd rather go — and then you'd say the way you'd rather go. Personally, I'd prefer to go in my sleep. But if not that, death by something quick and painless that I didn't see coming works.
Well, okay, that's not entirely true. My very first choice would be to live long enough to have Jesus come and take me during Rapture. Just saying.
But if Rapture's not going to happen in my lifetime — in my sleep after I've had a long, satisfying and fulfilled life. Third? Just something quick, painless and as out-of-the-blue as possible. "She never saw it coming and never knew what hit her. Didn't feel a thing. She was dead before she hit the ground," is how I want my death to be described. If I get a choice.
However, if I were executed (because you want to say that this would never happen to you — EVER; but then, can anyone really know that it won't happen to them 100 percent for sure, for sure?), in the order of my preferences — death by:
Lethal injection (also David's preference)
Gas chamber
Firing Squad
Guillotine
Hanging
Stoning
Drinking cyanide Kool-aid
Electric Chair
Did I leave anything out? (Also, Ryan chose to not participate for those of you who were wondering.)
So, Wayward Friends, how about you? If given a choice, how would you want to go? If you want to give an explanation as well, please feel free to do so.
Also, what would your last meal be? I would want lasagna from Rocco's from Denton, Texas, circa 1989. Second choice: a nice chicken piccata with all the fixins', maybe? Not positive about that, though. Hmm.
Okay, your turn.
Here's a little thinking music to get you started —
TTFN,
Mona