It's been an interesting day.
First of all, I watched a show on TV about vampire hunting in Romania and Bulgaria. That was fascinating.
Then I read Ally Bean's blog post, and she described visiting a particular cemetery. She took pictures and well, you should see and read her post for yourself, which you can find here.
Lastly, I was going to tell you about what happened to me the other day that made me start worrying about my own demise. However, I'll tell you about that next Monday.
For whatever reason, there seems to be a death/cemetery theme going on today; so, I'll just go with it.
Ally's post reminded me that I used to enjoy going to cemeteries to take pictures of angels; something I haven't done in a very long time. I took most of them with my camera before I had a smartphone. I should download them onto my computer one of these days. When I do, I'll show you some of my favs. Where is my camera?
Anyway, that reminded me of the time when David and I talked about what we might want on our tombstones. Mine will probably read, TTFN (Ta Ta For Now) ala Tigger from Winnie the Pooh, because that's how I usually sign off here on my blog, and so why not also sign off going into the Great Beyond with the same? David thinks he would like AMF (Adios, Mother F**kers) because he's been signing off that way to friends and others since he was a teenager. That's my husband!
Instead of angel statue hunting, I think it might be more interesting to go tombstone hunting for funny or interesting sayings.
Until then, which is not in the heat of the summer, I found a few online gravestones I hope we all can appreciate.
I like John Ritter's nod to the Beatle's ~
If you ever watched Merv Griffin, you'll understand this ~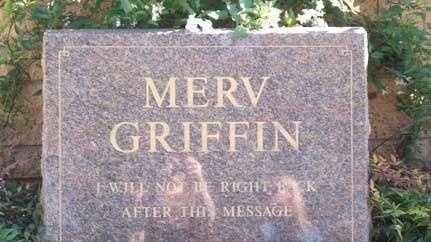 I don't know if this is a real headstone, but assuming it is, is this not the ultimate in "I told you so?" ~
This one begs the question — with friends like these, who needs enemies? ~
Apparently, the thought here was — this person's not going towards the light. Ouch ~
I wonder if these two were buried in t-shirts with the same words. Since they both died on the same day, I think it might be safe to say, it was Stupid's fault. ~
This one makes me wonder, were her implants buried with her? ~
Okay, I want to see this one for myself in person. Anyone know where it's located? ~
Lastly, someone was a major fan ~
So now it's your turn.
What do you want (at this moment because nothing you say here is written in stone) your last words, motto, lyrics, or whatever else engraved on your headstone?
Also, I'm asking you the same thing James Lipton (rest his soul) used to ask all of his movie star guests he interviewed on A&E's In The Studio, "If there's a heaven, what would you like God to say to you upon arriving at the pearly gates?"
Apparently, Lipton was an atheist; however, on a CNN interview, his answer to his own question was, "You see, Jim? You were wrong. I exist. But you may come in, anyway."
I hope God gives me the best hug ever and says, "I'm glad you're here. Everyone you love is waiting for you." So what about all of you? What would you like God to say to you when you cross over?
A little Beatles for you ~
what the heck, here's another ~
TTFN,
Mona