David, Ryan and I were eating at Carraba's for lunch last Sunday. We were in the mood for Italian and originally headed out to Kenny's Italian Kitchen in Addison, Texas. When we drove up, we discovered they wouldn't be open for another four hours. Apparently, they're only open for dinner (at least on Sundays) which is stupid. Because — see Kenny, by not being open when we were hungry for Italian at lunchtime on Sunday, you lost out — and so Carraba's got our money instead! After that disappointment, we headed towards home while contemplating other choices for lunch. It was then that we saw a Carraba's, which is fine when you're looking for some noodles and sauce. That sounded good to me and David — and Ryan wanted pizza —  and they were open — so that's where we went.
We sat, got our drinks and placed our order. We were busy eating bread and olive oil — completely minding our own business — when the man at the table who had been seated right next to us asked, "Is this authentic Italian?"
Well, hell. I mean it ain't the Macaroni Grill,  Olive Garden or Kenny's. Right? It's a chain restaurant. They're all chain restaurants. Is there any chain restaurant in the US that truly offers food that is completely authentic to the originating country it claims to represent? Maybe there are. I really don't know. I don't ask these questions because I don't care. The food either tastes good or it doesn't. I either have a craving for it or I don't. But then, again, I was brought up on authentic, name-brand canned vegetables including: the sometimes dreaded Veg-All, canned meat (potted, Vienna sausages, deviled ham and Spam), Italian prepared by the Chef — Boyardee that is — and macaroni that hails from a box, which also happens to have cool, glow-in-the-dark, powdered cheese as a main ingredient — and I don't feel deprived.
So I'm probably not the one to ask that question. I am not a food snob because that's the way my mom and dad raised me. Anyway, I don't think the man understood just how absurd his asking this question from a complete stranger (me), while in the middle of a chain restaurant was. The fact that Jose or Amador or Carlos was probably preparing our food and not Giacomo, Guiseppe or Giovanni just added to what I assumed was the obvious answer.
We're in Texas, y'all.
I mean what if I had answered this man with a resounding "yes," and then this man found out that his meal came from a box or a can that said "made in Taiwan" on the label? Or what if it turned out that what we were being served was "reproduction Italian" or that it was "based upon Italian?" Boy, would I have felt like a sham and an idiot for leading this man astray with my authoritative opinion.
Or what if I had said no? Would the man have stood up and loudly exclaimed to all within earshot, "Well, that's it! I wanted authentic Italian and this stranger says it's not (while pointing at me and throwing me under the bus.) So I'm out of here and never coming back!?" And while he may have left — I mean — me and my family would still be there and we hadn't been served our meal yet. Ya think I want to eat food that comes out of the kitchen from a place where I just ran off a paying customer with my opinion? I mean, that's just asking for bad, unseen things to happen to your food.
Of course, there was a good chance that I was overthinking his question. Sometimes I have a tendency to do this. Maybe he just wanted to strike up a conversation. Maybe he really didn't care about authenticity. But damn, Dude, you have someone you brought into the restaurant with you. Sit and talk with her! She looked embarrassed by the way. I think this guy might make a habit out of doing this sort of thing.
Anyway, I did answer him.
Since I had my mouth full and was in the middle of chewing my olive oil soaked bread when he spoke to me, I just shrugged my shoulders, hands out, palms up. I didn't try to say anything, I just made the "beats-the-hell-out-of-me" gesture, which I thought was a very Italian thing to do — don't ask me why — because when I think about it now, that's probably universal body language —  and, well, it just seemed like the right response for this situation.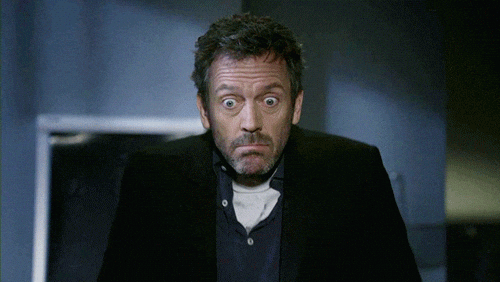 Then the man repeated his question as if I didn't understand him the first time. I was forced to use my words. "I really have no idea," I told him. "This is like the second time we've ever eaten here, " I finished. I purposely didn't bring up the fact that this wasn't our first choice of restaurants. Neither did I relay that we picked this one mostly for convenience. I quickly turned away and had the most engrossing conversation I've ever had with David. "Can you believe this weather," I asked him.
The man then went back to talking to the woman he brought to the restaurant. Thank God! They ordered and got their food, as did we. It was all normal and ordinary again with the momentarily awkward situation over. Our food was delicious and we had plenty left over to take home. As we prepared to leave, the man turned to us again.  He said,"I just wanted you to know that this is authentic Italian. I asked the server, a very knowledgeable young lady, and she assured me they get all their ingredients shipped in from Spain."
Ah, well, the temptation was just too great! With my carb high in full-swing, I said, "Oh, really! That's  good to know! But wouldn't that make this authentic Spanish food, then? Y'all have a good rest of your Sunday!"
The man sat with a dumbfounded look on his face. While he thought about what I said, I saw the woman sitting next to him laugh. For the first time since they'd arrived! He looked like he going to make another remark, so I quickly strode away before he had the chance. "Look, David, it might rain again!" I quickly yelled after my disappearing husband.