Tuesday
The only way I could bear Tony DiNozzo (Michael Weatherly) leaving NCIS was knowing that he was coming back as the lead guy (Jason Bull) on the series Bull. I still miss Very Special Agent DiNozzo — but in my mind, he is living a beautiful life in Paris raising his and Ziva's very special daughter — with Ziva. Because while I know Ziva was effectively killed off in the series, her body was never definitively found — at least I never saw a body. Did you see a body? Did Ducky ever examine a body and say it was Ziva's for sure, for sure? If Ducky didn't declare Ziva dead, then as far as I'm concerned, there's no proof that Ziva died in her farmhouse. Ergo, I choose to believe that what really happened is that Ziva went into hiding to escape whoever was wanting to kill her in the first place. In my mind, Ziva, Tony and their daughter Tali are living happily ever after in Paris and/or "parts unknown."
But now we are talking about Abby, y'all!
ABBY SCIUITO!!!!
I don't know if I can even watch tonight's episode.
Pauley Perrette is on record saying it's a tear jerker and also showing concern for Abby fans — but she's not giving any hint as to whether Abby survives and leaves NCIS or whether she dies or whether it's all just a very bad dream.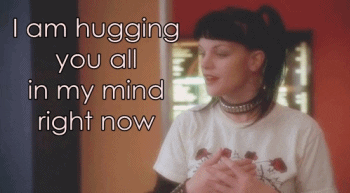 So unless I find out that this is, indeed, just a nightmare, I may skip this episode and pretend that Abby's decided to leave NCIS to go live with Ziva, Tony and Tali in Paris. I think Ducky may be hanging out in Paris working on his book, as well. Great cafes out there where he can write.
Matter of fact, maybe I, too, will just go and live in Paris with all of them — I believe I have a book or two in me just itching to be written!
Gibbs? You coming?